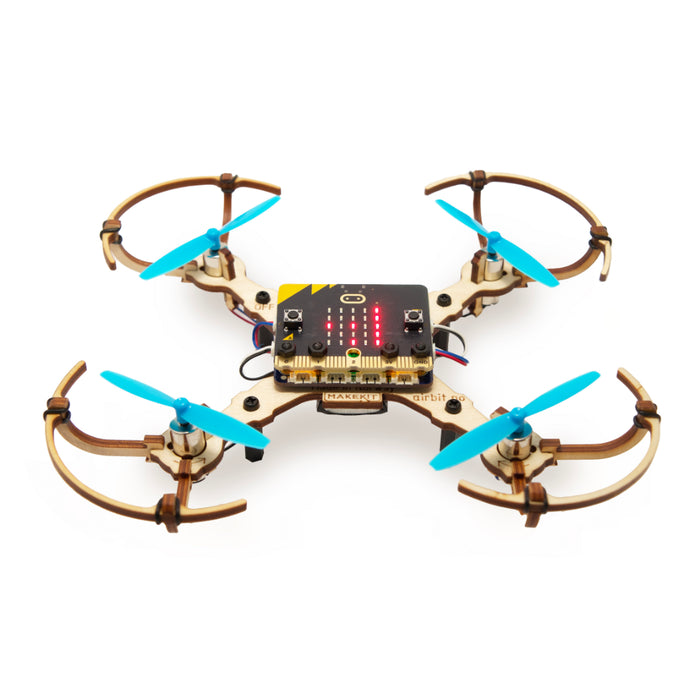 Air:bit - with a choice to include wifi camera (Does not include micro:bit)
Original price
$189.95
-
Original price
$229.95
Air:bit 2 - The Ultimate micro:bit Supplement
The original micro:bit drone has gotten even better. This micro: bit supplement is one of the most advanced and most fun you can do in both coding and construction. The quadcopter has been developed over several years and is used at a variety of science centers, schools and by private individuals.
Sustainable and repairable
Designed and produced in Norway
Creative
Air:bit 2 Comes with a brand new controller card that leaves all calculations to micro:bit. It gives you full control of the systems, and an opportunity to gain insight into the code that allows the drone to fly. Challenge your flights or explore the code that makes it all work.
NB: You need at least one micro:bit to fly the drone (not included) What is Micro: Bit? 
We recommend 2x micro:bit per drone, one as a remote control and the other on the drone itself. You can use an app as a remote control.
Contents:
1x Air:bit 2, controller card without micro:bit.
motors, propelers and wooden parts.
You get a link to detailed assembly guide for the drone, and how to program the remote control from scratch.
Ready made code is also available. We use

 

Block-based programming with JavaScript opportunity.
3D-print file for download
1 x wifi Camera (if purchasing the wifi camera option)
Exciting extensions:
Make your own remote controller or a controller glowe
customise it to be a hover boar
Measure battery voltage, acceleration and more to show real-time graphs in makecode editor.
Programming movements over time (external altimeter recommended)
Program flips/loop
Mount LEDs or Buzzer on the drone
Mount sonar or lidar for distance measurement, anti -collision and autonomous flight
Mount micro servo and make a flying rubberband cannon
Subject: (For teachers)
Mathematics: Geometry, angles, algebra, functions
Natural science: Power, batteries, electromagnetism, radio signals
Programming: Variables, sensors, radio, LED display, IF/Else, data transfer
Arts and Crafts: Construction and Design (preferably with 3D printer)
English: terminology, concepts of flight directions/orientation
Air: Bit is very suitable for STEM or STEAM education and is used in teaching tool at schools worldwide.