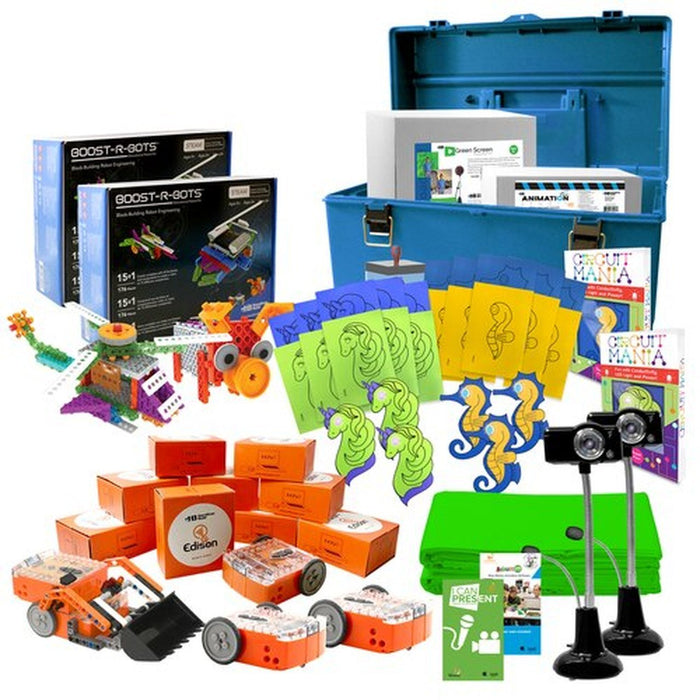 Beginner Skill Level - Deluxe STEAM Pack - Coding and Engineering Robots, Media Production Kits, and Climate Tracking Device (HamiltonBuhl)
Original price
$1,989.95
-
Original price
$1,989.95
Beginner Skill Level STEAM Deluxe Pack
Bring STEAM curriculum to life with HamiltonBuhl's Beginner Skill Level Deluxe STEAM Kit full of engineering and coding robots, augmented and virtual reality, 3D printing and media production activities!
Tomorrow's inventors and problem-solvers are today's students, teaching them a better understanding of STEAM concepts will be essential in preparing them for the careers of tomorrow. This beginner skill level pack is ideal for all middle and high school grades.
Each product in this Deluxe STEAM Pack comes with FREE downloadable lesson plans. Aligned to the required standards, the lesson plans include worksheets, teacher's guides, evaluation rubrics and more. What a turn-key and convenient way to expand the STEAM curriculum!
Beginner Level STEAM Deluxe Pack Includes:
(1) AirComfort™ Climate Tracking Device (AIR-ORG)
Delivering on STEAM education requirements, the AirComfort™ is a handy device that measures and collects climate data in 5-40 minute increments. Using the FREE companion app, students can chart, graph, analyze and draw conclusions, then run experiments to see if they can affect change. What a great way to introduce kids to statistics, reporting and analysis. Without realizing it, they will be learning an essential STEAM skill set that prepares them for their future.
(1) Edison Educational Robot Kit - Set Of 10 (EDIBOT-10)
These LEGO® compatible educational robots are clean, safe, reusable, expandable and robust, providing students across all grade levels, from ages 5+, with a range of combinations, and possibilities. Each Edison robot features a host of sensors and can be programmed using a growing number of FREE software applications. Each programmable Edison robot interacts with the world via infra-red (IR) transmitters and receivers, line tracking, barcode reading, playing sounds and music, plus sound detection. It's also equipped with two motors with variable speeds, left and right red LED lights and three control buttons.
(5) Circuit Mania – STEAM Education - Seahorse (CM-SH)
(5) Circuit Mania – STEAM Education - Unicorn (CM-UC)
Circuit Mania™ brings STEAM concepts into playtime for children ages 6+. These paper projects help cultivate a host of important skills: problem solving, trial and error, following instructions, and the basics of circuitry and conductivity.
The included step-by-step instructions walk anyone through the process of creating their very own light-up Circuit Mania project. Each pack includes two sheets of different colored paper with outlines, a battery, an LED, strips of conductive tape and a clip.
(2) Boost-R-Bots™ - Robotics Kit (MRT3)
Boost-R-Bots™ engineering kit helps transform abstract concepts into hands-on learning experiences. Students across multiple grades, from elementary school to high school, will get a first-hand experience with this engaging multi-function robot engineering kit. With step-by-step instructions, Boost-R-Bots™ Kit comes complete with all the blocks and components needed to create 15 different, more and more complex robots incorporating a programming board, motors, remote controller and battery powered electricity.
(1) Animation Studio Kit (ANI-KIT)
Teaching kids multimedia skills develops their critical thinking, problem solving, communication, and collaboration capabilities and demystifies media and IT technologies. Almost any topic can be made more interesting using stop motion animation, and students will learn from this exciting teaching technique. The Animation Studio Kit includes a 5MP, 30FPS, gooseneck webcam with a non-slip base and Animate It! stop motion animation software, developed by the award winning makers of "Wallace & Gromit."
(1) Green Screen Production Kit (GRN-KIT)
With a quick and easy setup of the green screen backdrop in front of the included 5MP, 30FPS, gooseneck webcam, students will be able to create short news broadcasts, weather forecasts, short reviews, virtual visits to far away places – the planets, the solar system, the Pyramids, the Amazon, the ocean depths, even time travel, all without leaving the classroom.
(1) Large Lockable Carry Case (Lock Not Included)