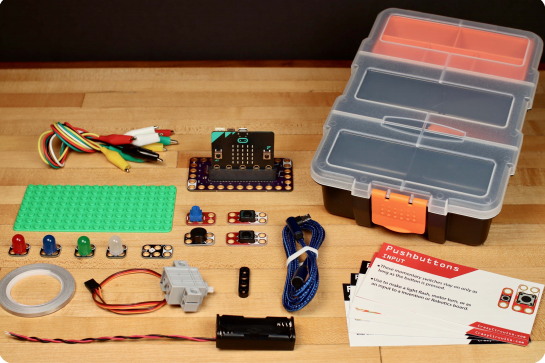 Crazy Circuits Bit Board Kit - (for the micro:bit)
Welcome to the world of programming and automation with Micro:Bit!
In comparison to the Arduino platform, the micro:bit micro controller offers an enhanced graphical programming solution for coding.
The Bit Board Adapter was designed as a solution for teaching programming via micro:bit's graphic interface, allowing it to work with our Crazy Circuits™ component platform.
These modular kits are robust sets of materials supported by online lesson plans, projects, activities, diagrams, and videos. Note: kits do NOT include individual Micro:Bit board.
**The kit DOES NOT include a micro:bit *** this needs to be purchased separately
Product Features
• 2x Small Pushbuttons
• 4x 10mm LEDs (r,g,b,w)
• 4x (1x6) LEGO Pieces
• 1x Neopixel
• 1x Potentiometer
• 1x Piezo Speaker
• 1x Crazy Circuits™ Bit Board Microbit adapter
• 1x Roll 1/8" Maker Tape™ (5m)
• 1x 2AAA Battery Holder
• 1x USB Cable
• 1x Alligator Clip Bundle (5 per)
• 1x LEGO Servo+ connector piece
• 1x LEGO Base Plate • Instruction Cards/Online Curricula
Specifications Height: 6.0" Width: 9.0" Depth: 3.0" Weight: 13.90 oz.
Age: 10+ Grade: 4+