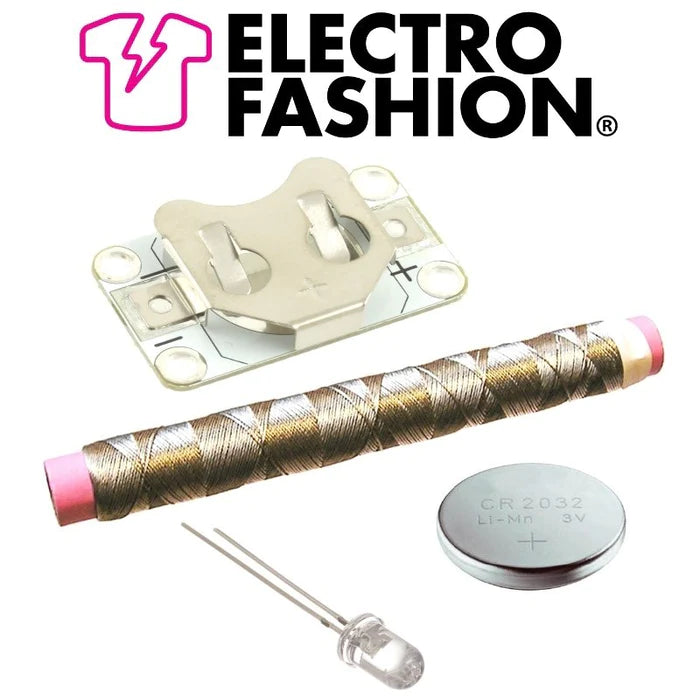 Electro-Fashion, 60 Student Bulk Pack - Regular LEDs
Original price
$171.00
-
Original price
$171.00
Description
This fantastic new 'Electro-Fashion' range from Kitronik has been specially designed so electronics can be used in textiles. They allow lighting effects to be added to textiles designs without soldering.

The kits use 'conductive thread' which is a thread that can be used like cotton thread but conducts like a wire.

The sewable LED bulk pack provides enough parts for 60 students.
The bulk pack includes:
60 sewable/stitchable coin cell holder
60 CR2032 lithium coin cells
4 reels of conductive thread each 50 yards long.
25 blue flashing LEDs
25 red flashing LEDs
25 yellow flashing LEDs
25 green flashing LEDs
10 colour changing LED
This kit uses our own custom designed 'stitchable' coin cell holder. This has the benefit of large, easy to stitch connection points (no more difficult little holes!) and clearly marked terminals which show the battery polarity.
Click here to down load the guide on how to use this kit 
Caution:
Coin cells should be kept out of the reach of small children as they are very dangerous if swallowed, when immediate medical intervention is required.