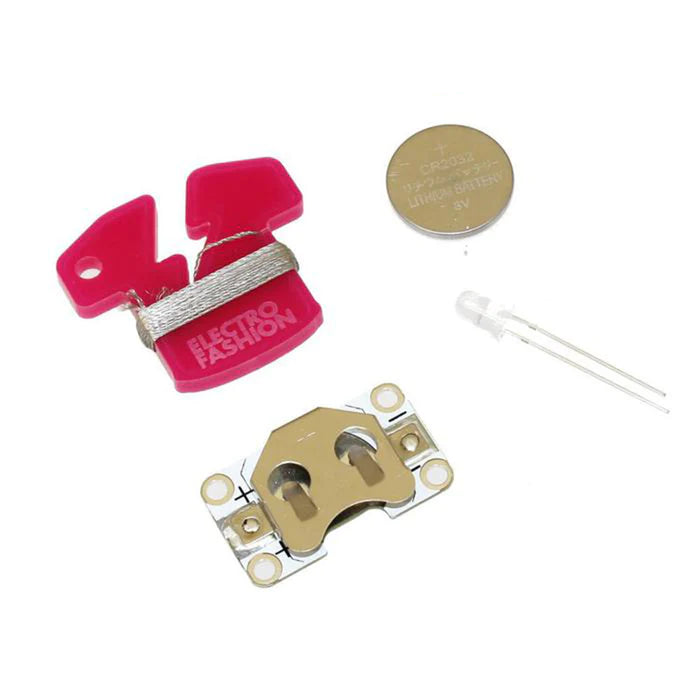 Electro-Fashion, Sewable Light Kit, Colour Changing
Original price
$6.00
-
Original price
$6.00
This fantastic new 'Electro-Fashion' range from Kitronik has been specially designed so that electronics can easily be used in textile applications; they allow lighting effects to be added to textiles designs without soldering.
The kits use 'conductive thread' which is a thread that can be used like cotton thread but conducts electricity like a wire.
This kit uses our own custom designed 'stitchable' coin cell holder. This has the benefit of large, easy to stitch connection points (no more difficult little holes!) and clearly marked terminals which show the battery polarity.
Features:
Easily add lights to textiles projects.
Easy to stitch connection points.
Clearly marked battery polarity terminals.
No soldering required.
Contents:
1 x

 

Coin Cell Holder.
1 x

 

Colour Changing 5mm Diffused LED - 750mCd.
1 x

 

2m Conductive Thread.
1 x

 

CR2032 3V Coin Cell.
Dimensions:
Sewable Coin Cell Holder Length: 34mm.
Sewable Coin Cell Holder Width: 20mm.
Sewable Coin Cell Holder Height: 4.5mm.
CR2032 Battery Height: 3.2mm.
CR2032 Battery Diameter: 20mm.
Requires:
Resources:
Caution:
The coin cell holders in this pack contain Nickel and should not be used in designs where it will be in prolonged contact with the skin.