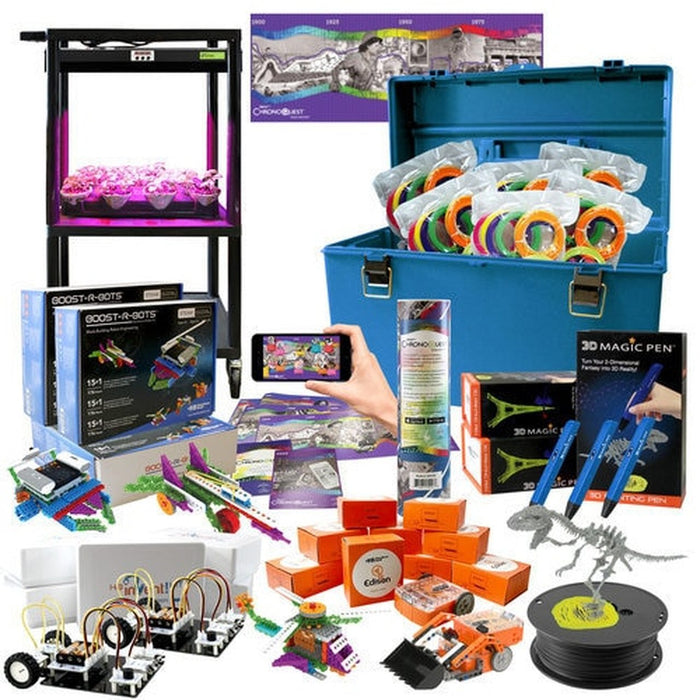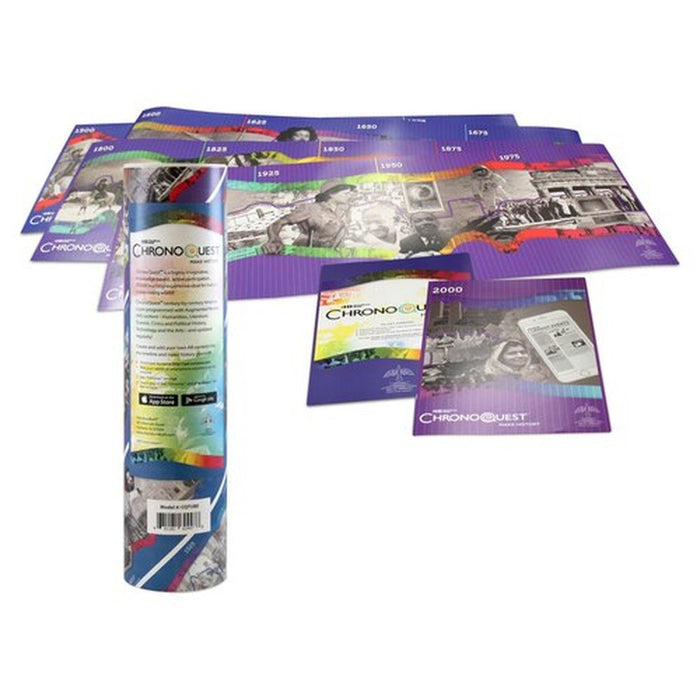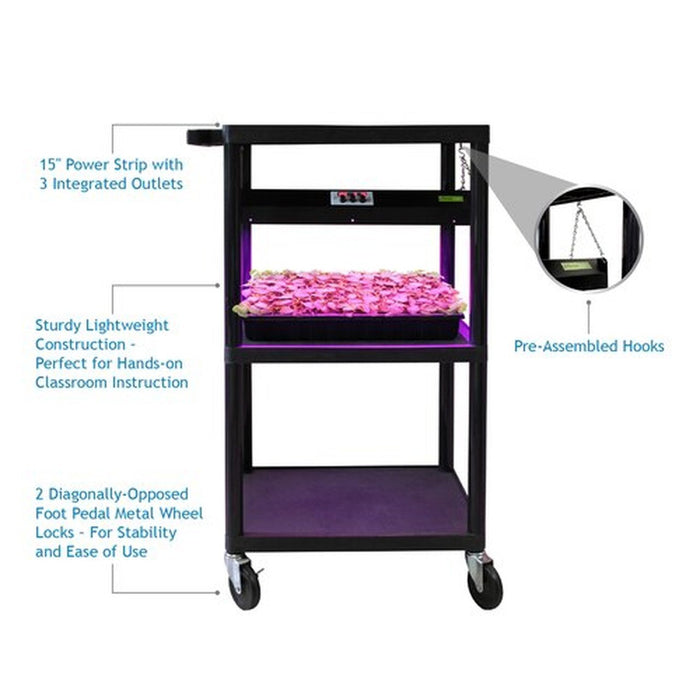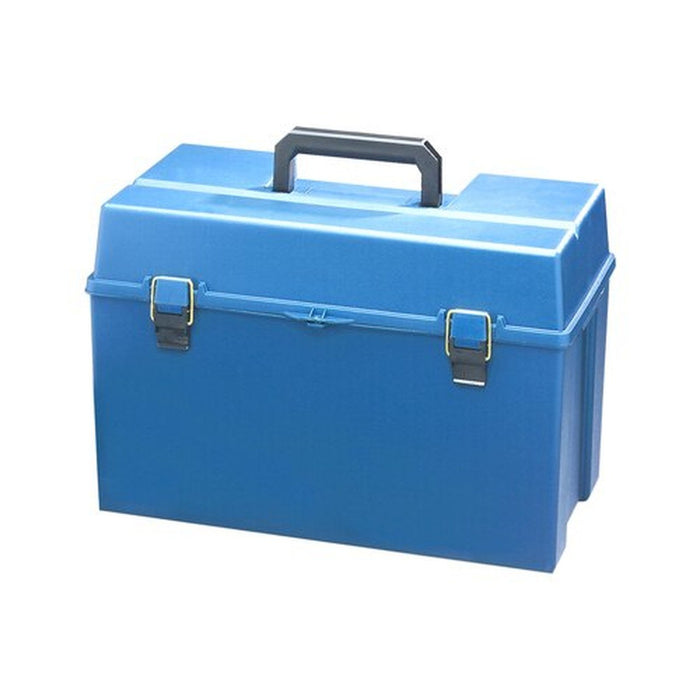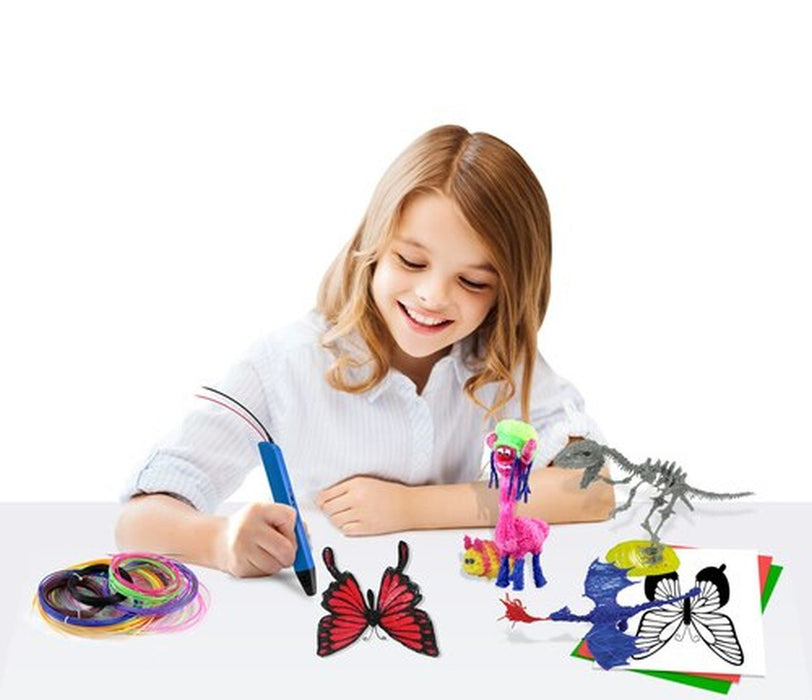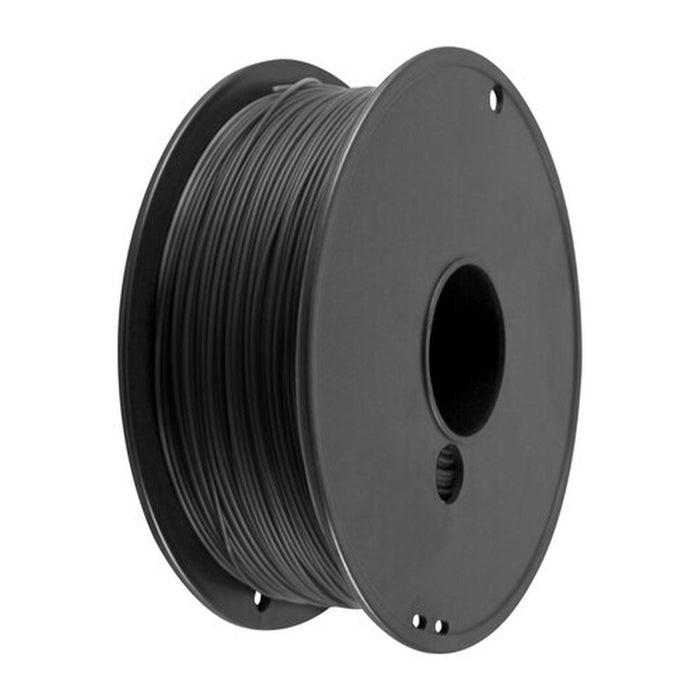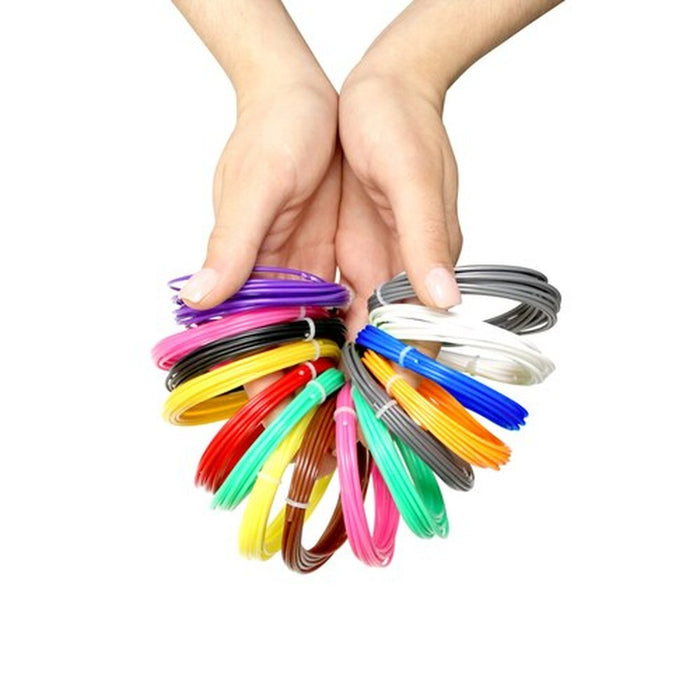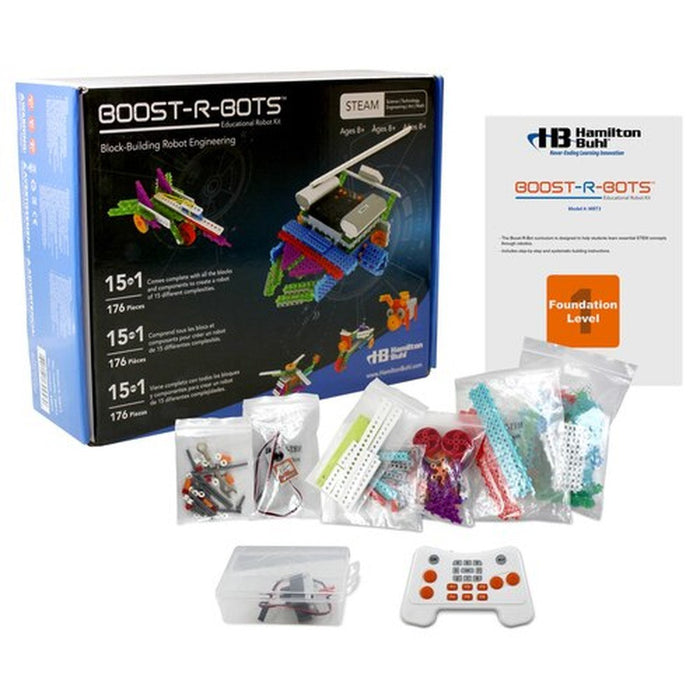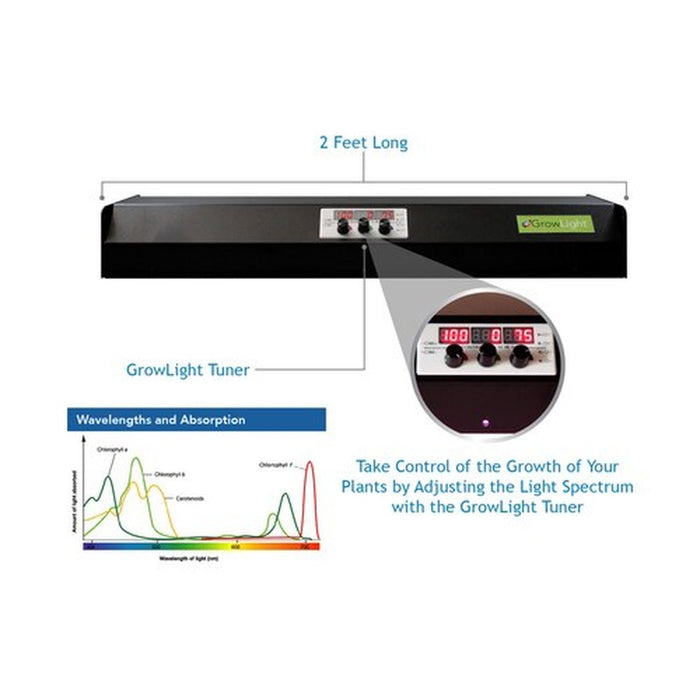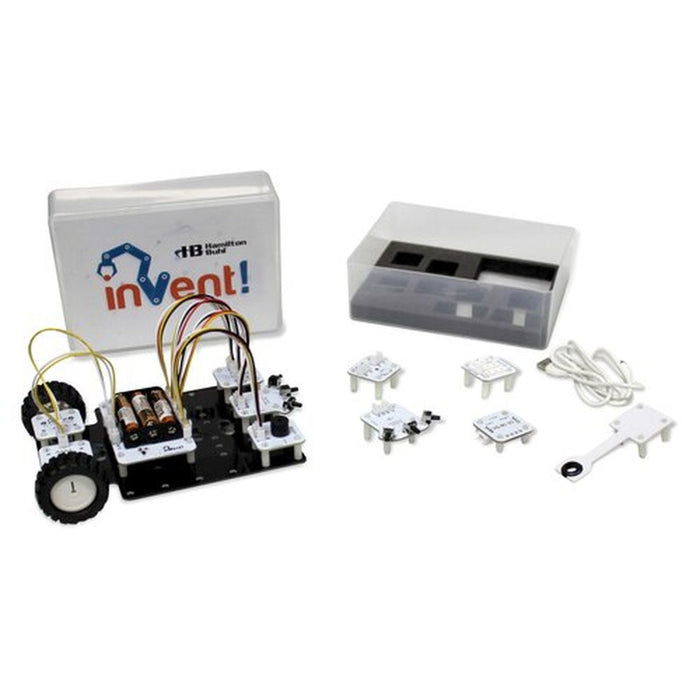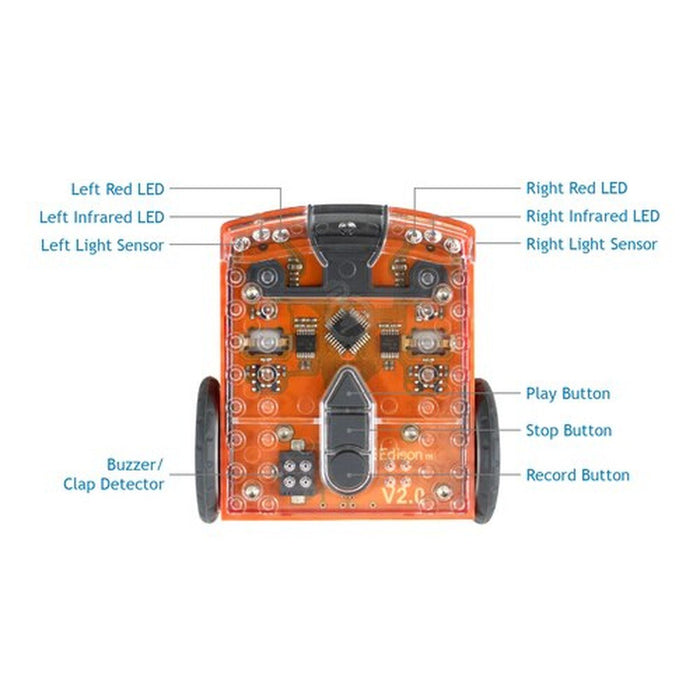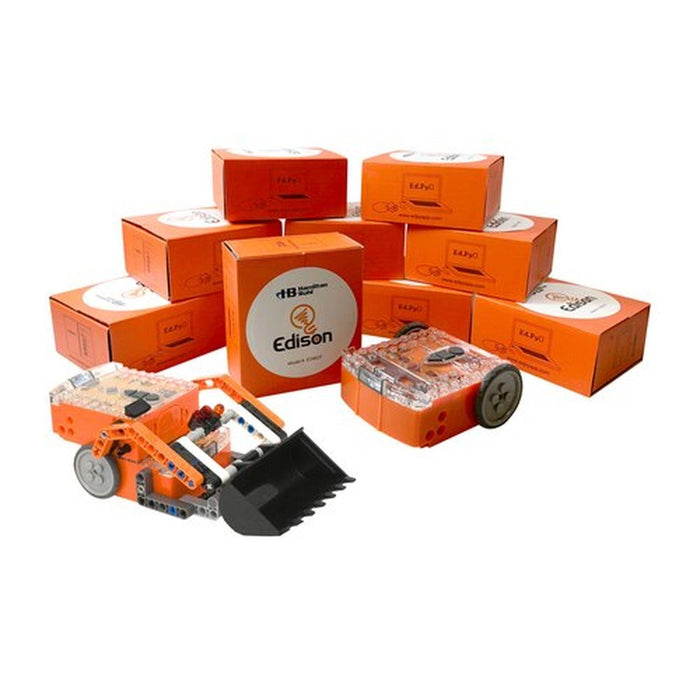 Intermediate Skill Level - Deluxe STEAM Pack - Coding Robots, Engineering Robots, 3D Printing Pens, Augmented Reality, LED GrowLight and Much More! (HamiltonBuhl)
HamiltonBuhl Deluxe STEAM Education Pack - Intermediate Skill Level
STEM education creates critical thinkers, increases scientific thinking and literacy, and enables the next generation of innovators.
Enhance your current STEAM curriculum with HamiltonBuhl's Intermediate Skill Level Deluxe STEAM Education Pack loaded with 21 individual items. The pack includes Edison and HB Invent! coding robots, Boost-R-Bots block-building engineering robot kits, ChronoQuest student/teach programmable augmented reality timeline, 3D Magic Pen with refill filament packs and roll and HB LED GrowLight kit with cart!
This intermediate level pack is ideal for middle school and high school grades, but can also be used in elementary school grades, where STEAM curriculum was introduced from the start.
Each product in this STEAM Starter Pack comes with FREE downloadable lesson plans. Aligned to the required standards, the lesson plans include worksheets, teacher's guides, evaluation rubrics and more.
Intermediate Level - Deluxe STEAM Education Pack Includes:
(1) Edison Educational Robot Kit - Set Of 10 (EDIBOT-10)
These LEGO® compatible educational robots are clean, safe, reusable, expandable and robust, providing students across all grade levels, from ages 5+, with a range of combinations, and possibilities. Each Edison robot features a host of sensors and can be programmed using a growing number of FREE software applications including Python! Each Edison robot interacts with the world via infra-red (IR) transmitters and receivers, line tracking, barcode reading, playing sounds and music, plus sound detection. It's also equipped with two motors with variable speeds, left and right red LED lights and three control buttons.
(5) HB Invent! Kit Assembling And Coding Robot (INVBOT)
The custom-designed HB Invent! Kit is developed for STEM-based curriculum. The kit comes with all the components needed to create a variety of fun, programmable inventions – a wheeled robot – complete with collision sensors, buzzers, color-changing lights, line sensors and even infrared sensors that can detect fire! As students assemble the robot, they will be learning a multitude of subjects including robotics and general science concepts such as sensors, engineering and math. As students program the robot to complete various tasks, they will learn coding in Crumble – drag-and-drop programming software – similar to Scratch. Easy for elementary grade students to use, yet robust for older students, Crumble allows the older, more experienced students to investigate much more complex algorithms and provides access to more advanced components.
(3) Boost-R-Bots™ Engineering Kit (MRT3)
Boost-R-Bots™ engineering kit helps transform abstract concepts into hands-on learning experiences. Students across multiple grades, from elementary school to high school, will get a first-hand experience with this engaging multi-function robot engineering kit. With step-by-step instructions, Boost-R-Bots™ Kit comes complete with all the blocks and components needed to create 15 different, more and more complex robots incorporating a programming board, motors, remote controller and battery powered electricity.
(1) ChronoQuest™ 3D Interactive Augmented Reality Timeline (CQTUBE)
Created by technologists, informed by educators, ChronoQuest™ uses Augmented Reality to shed exciting new light on history. Century-by-century, students quest through time learning about, even adding to, history's past! ChronoQuest™ Timelines are pre-programmed and regularly updated with content from six subjects for immediate fun, active, and participation learning. Along with the pre-programmed content, ChronoQuest™ is specially developed to let teachers and students customize and add Augmented Reality CHRONOS content to the timeline! With step-by-step instructions students and teachers are shown how they can code new content and make history!
(3) 3D Magic Pen™ - 3D Printing Pen (MPEN)
The 3D Magic Pen™ is a great way to expose young minds into the larger subject of 3D Printing, a disruptive innovation poised to change businesses and how we live our lives. Apart from creativity and fun – expanding imaginations, and learning about construction – the 3D Magic Pen™ is a great way to foster learning and introduce kids to STEAM subjects. Art stimulates creative thinking, essential in implementing cognitive skills, helps develop better communication, problem-solve, and increase overall literacy.
(6) ABS Filament Pack Of 15 Vibrant Colors For 3D Magic Pen™ (MPFB)
The pack includes an assortment of 10' long filament colors from orange, yellow, red, blue, purple, and pink to even lime green and more.
(1) ABS Filament Roll 3D Magic Pen™ - Black, 980 Ft. (MPFBLK)
(1) HB LED GrowLight™ Kit (GLITE)
With HamiltonBuhl's LED GrowLight Kit, photosynthesis will no longer be an abstract concept, but will be an observable event as students tune the GrowLight LED lights to the optimal spectrum for the plant they are growing. The HB LED GrowLight™ Kit is an indoor hydroponic gardening kit for planting and growing a variety of herbs, fruits and vegetables right in the classroom. Utilizing the very latest LED light with wavelength tuner and hydroponic technology, children will learn about all the variables that control growth of plants including soil types, watering nutrients, CO2 levels, function of roots, as well as see for themselves how different light wavelengths impact plant growth.
(1) Large Lockable Carry Case (Lock Not Included)