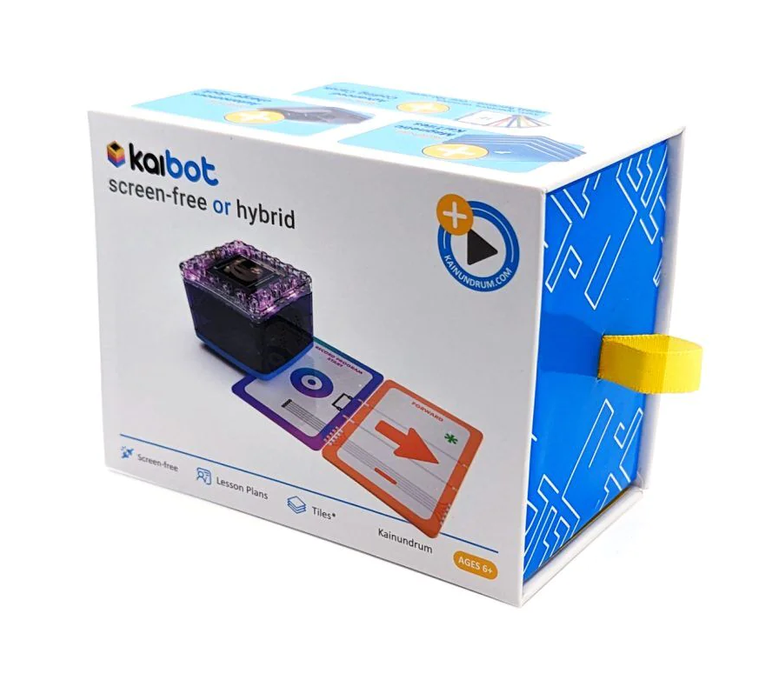 KaiBot
Original price
$97.50
-
Original price
$97.50
Screen-free or online multiplayer robot. KaiBot can scan and read the coding cards, then repeat the sequence on the floor or using the 'special' KaiTiles. When using with KaiTiles, the robot will identify the exact angle, x & y coordinates, and tile number. KaiBot can be paired with Kainundrum.com, allowing you to join other virtual robots online in maze races, hide n seek, escape rooms, and many more games.
If you add on KaiTiles you'll be able to use KaiBot alongside Kainundrum for a one-to-one virtual and physical experience happening in real-time.
Want more? Add the >> eBook First Steps in Coding through Mathematical Thinking and Game-Based Learning for Grades K to 8 to your teaching arsenal. This is a comprehensive resource book filled with lesson plans and activities designed specifically for KaiBot.
Small on size,
big on features
This purposefully designed education coding robot creates a rich and engaging way to teach & learn coding. It's small size defies it's big abilities. KaiBot combines unplugged coding with included coding cards or use KaiBot along with Blockly or Python coding that delivers along side an engaging immersive virtual enviroment. For kids aged 5 to 15.
A deck of cards to teach coding concepts
These simple screen-free or unplugged coding cards are a great activity to teach and introduce the basics of coding to your kids.  Developed by teachers & parents with text coding principles and various levels of difficulty to master the essential coding concepts with syntax and examples. 
Code n' Play in Kainundrum
Kainundrum involves single-player to frantic multiplayer races. Invite 5 friends and solve mazes, puzzles, hide'n seek or escape rooms. Each game has lasers, mirrors, gates, oil slicks, or just collect Doge coins. Plus weekly challenges! 
Specifications
1" LCD screen for displaying emojis, coding cards, and bug alerts
Downfacing camera with New Zealand 'magic dust' sensor
Lithium-ion battery with up to 1 hour of use
Micro USB charging or optional Autonomous Charging Dock available
Robot size 11cm x 9cm x 6.5cm / 4.4" x 3.6" x 2.6"
Robot weight 250 grams / 0.6 lb
User Guide:
https://kaiseducation.com/user-guide-kaibot/