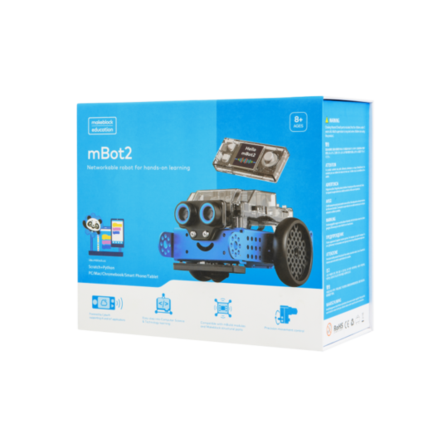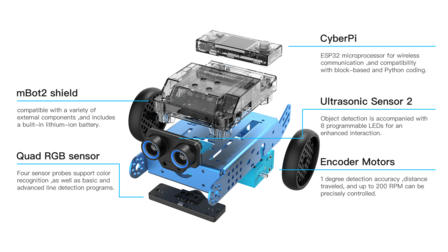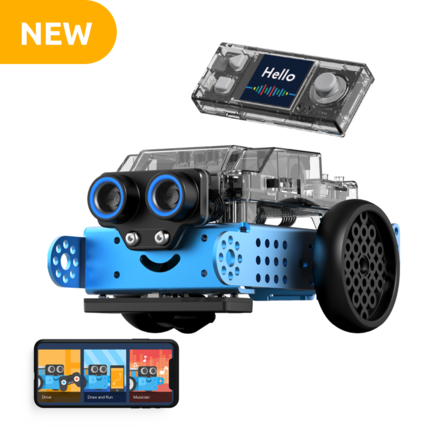 mBot Neo Class Bundle - 15 mBots
mBot2 is a next-generation educational robot designed with extended capabilities, starting as an entry-level solution in lower secondary education and going all the way to upper secondary and beyond.
mBot2 is powered by CyberPi, an educational microcontroller enhanced with network capabilities, built-in sensors, and much more. mBot2 is designed for students to carry out interactive and smart lessons that are engaging, fun, and reflecting real-world applications with cutting-edge technologies, including robotics, AI, IoT and Data Science. With mBlock's enhanced coding learning experience, mBot2 allows students and educators to begin with the block-based coding approach, and seamlessly transition into object-oriented coding with Python, all in the same environment.
KEY FEATURES
 

POWERED BY CYBERPI

CyberPi is a powerful and versatile microcontroller for education. Its integrated sensors, full-color display and Wi-Fi communication capabilities allow a wide range of applications on curriculum topics for Computer Science, Robotics, Data Science and Artificial Intelligence, in connection with other areas of the curriculum such as Math, Physics, etc.




PRECISION CONTROL

The encoder motors in mBot2 can be precisely controlled by their rotation, speed and position, making possible the integration of principles in Math, Physics and Engineering.




ENHANCED

mBot2 comes with the next-generation of the ultrasonic sensor, which includes ambient illumination, and the Quad RGB sensor, which uses 4 color sensors simultaneously to detect colors and follow lines. This gives them more accurate performance and consistency. mBot2 can be further expanded with the Makeblock Education's wide variety of structural parts and mBuild smart electronic modules.

INCLUDES: