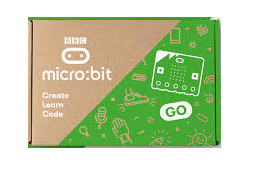 micro:bit Go Bundle V2
Original price
$26.95
-
Original price
$26.95
The BBC micro:bit is back and better than ever! Version 2 of this popular board features a new built in Speaker, Microphone, more computing power, and improved power circuit. Best of all, it is still compatible with existing accessories, code, and lesson plans.
The BBC micro:bit Go Bundle is a basic starter kit for the very popular BBC micro:bit. This kit includes the micro:bit V2, a USB cable, battery holder, and even the batteries themselves! So what is the micro:bit? It is a pocket-sized computer designed for beginners in electronics and coding. The micro:bit makes getting into these often daunting fields as easy as possible. Programming the micro:bit can be done by computer or by their intuitive app available for Android and iOS devices. Code can be designed using a drag and drop interface in the Blocks editor, Javascript, or Python.
On the electronics side the micro:bit V2 is very well featured. The built in sensors, LEDs, and buttons give plenty to experiment with before moving on to external designed circuits. An onboard accelerometer and compass make detection of motion and orientation possible. A 5×5 matrix of red LEDs allows for scrolling text, designs, or sensor outputs to be displayed in unique and creative ways. The two programmable buttons can be used for inputs or simply to start and stop programs. A speaker and microphone allow it to sense sound and playback basic sounds. Even the micro:bit logo functions as a touch compatible button. Version 2 also sees the addition of an improved power circuit with power saving sleep mode.
Want to incorporate additional electronics? A 20 pin edge connector and 5 easily accessible alligator clip holes allow for external buttons, add-on boards, sensors, and other electronics to be connected.
Included In The Box:
BBC micro:bit V2
USB micro Programming Cable
AAA Battery Pack
2 x AAA Batteries