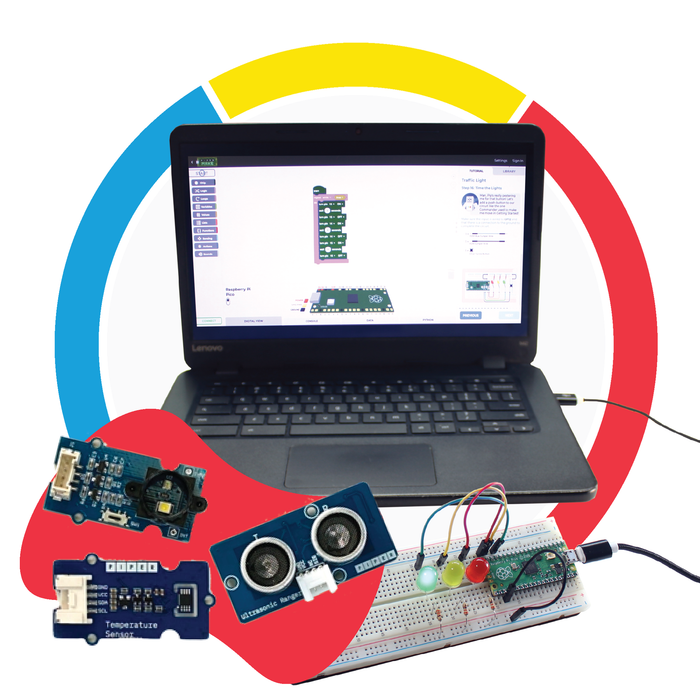 Piper Make Starter Kit + Sensor Explorer
Original price
$108.00
-
Original price
$108.00
Get the best of Piper Make with the Piper Make Starter Kit plus Sensor Explorer. The Sensor Explorer is a widget of the Piper Make Physics Expedition Kit (Sensors), and an incredible way to measure the world around you! Sensor Explorer is an add-on and REQUIRES a Piper Make Starter Kit with the Raspberry Pi Pico to get started (sold separately). 
As you meet new characters with Piperbot and Pip in our storyline (including some new Zomar friends and an enigmatic Color Wheel), you'll learn how you can use sensors to measure color, distance, and temperature in the world around you – the foundation of so many smart devices today! 
This bundle INCLUDES the Piper Make Starter Kit with the Raspberry Pi Pico. 
This kit includes 10 lessons for the Starter Expedition Kit as well as four new lessons free and accessible on  make.playpiper.com, look for Color Coded, Ther-mood-stat, Security Zone and Ultrasonic Drum missions. 
The Piper Make Starter Kit includes the Raspberry Pi Pico microcontroller and basic breadboarding equipment including: 
830 Hole Breadboard

Jumper Wires (M2M)

Resistors (10)

Tactile Buttons

LEDs

Micro-USB to USB-A cable, 1 meter

Laser Cut, Laser Etched Wood Base

Piper Make Sticker
With the Piper Make Sensor Explorer, you will receive: 
Temperature Sensor

Color Sensor

Ultrasonic Range Finder

Four-Pin Diode Jumper Cable

Sensor Card

Piper Make Sticker
For educators, our Piper Make online platform includes tools to facilitate teaching with Piper Make!  Resources such as Educator Guides and a full suite of Google collaboration tools including Classroom Share Button, Google Single Sign On (SSO), and Save to Google Drive functions are free and available at make.playpiper.com.
Recommended for ages 8+.