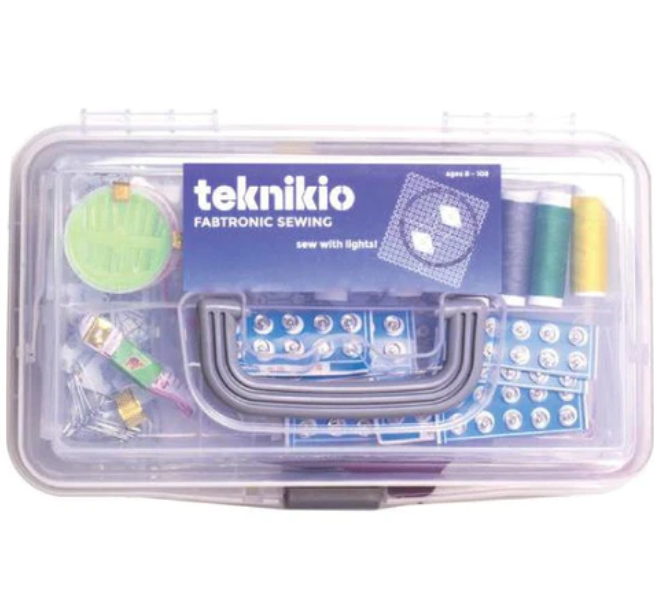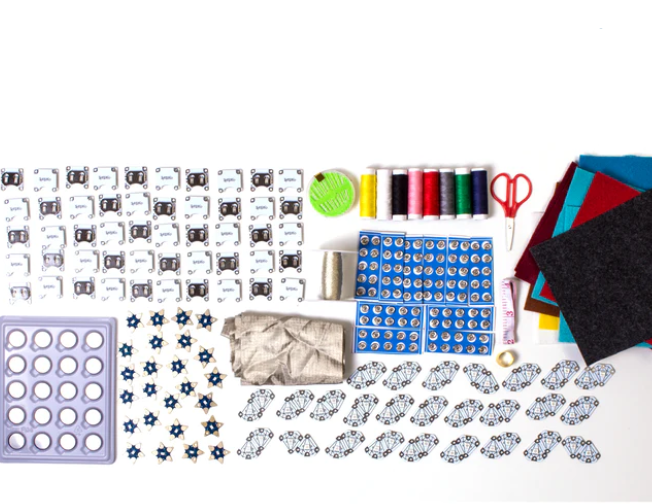 Teknikio Fabtronic Sewing Bundle
Finally, a classroom set to teach the basics of electronics and fashion! Enter the world of e-textiles and wearables with custom reusable parts that allow you to make and remake as many times as you want!
Designed for 25 students working alone, or 50 students in pairs. Fabric included but additional fabric and scraps recommended. 
Each lesson is matched to Common Core and NGSS learning standards for integrated STEM learning. 
Recommended grades:​ 5-9
● Number of Students: ​25
● Hours of Curriculum: ​16

Includes:

● Curriculum for up to 8 activities ranging from 1-2 hours. 
● Tackle storage box
● Instructor guide with vocabulary guide
● Collaboration and discussion tips
● Lesson extensions for differentiation
● Adaptable for classroom/makerspace instruction or self-directed learning

Each set includes:
26 Teknikio RGB sewable LEDs
51 Teknikio Star blue sewable LEDs
51 Teknikio batteryboard
60 batteries
1 large spool conductive thread
8 spools of regular thread and sewing kit
25 swatches felt
conductive fabric tape
needles
100 snaps